Environment
At Granlibakken, we work with our community and visitors to preserve our area's natural beauty and promote greener lifestyles. These initiatives include everything from energy and water conservation and reducing waste to green purchasing policies, habitat improvements and providing electric vehicle (EV) charging stations on our property.
EV Charging Stations:
We have conveniently-located JuiceBox Enel X electric vehicle (EV) charging stations on our property. One station is located near units 106/107 and the other just down from the Ski Hut.
Firewise USA Certification:
Wildfire is a massive summer news topic in California and as a resort we have worked for and received our Firewise USA certification. Wildfire not only kills and destroys but also pollutes our air and drains incredible economic resources that could be used elsewhere in the state and country for other needs.
Preserving Lake Tahoe
Think of us as Greenlibakken
At Granlibakken, we work with our community and visitors to preserve our area's natural beauty, with a focus on:
Improving, restoring and managing our natural habitat
Conserving water and energy
Reducing our waste stream
Promoting awareness and greener lifestyles among guests and employees
How do we do this? Our Green Purchasing Policy guides Granlibakken employees to follow more environmentally sustainable procedures. This includes reducing energy and water consumption, minimizing and properly disposing hazardous material, and reducing waste through recycling and minimizing the use of disposable products.
Environmental Awards & Recognition

Sierra Business Council – Green Business Certification
Granlibakken is proud to be the 1st business certified in Tahoe as Green by the Sierra Business Council in September of 2019. We are committed to joining our greater Tahoe Basin leaders in environmental policy by setting an example with our green purchasing policy and responsible forest management. We also look for ways to meet and exceed all current environmental laws and regulations and reduce waste with practices such as eliminating single-use plastic products as much as possible. Learn more about how your business can become a California Green Certified Business.

US Department of Energy
Placer County was recognized by the Department of Energy as a leader in energy efficiency, and Granlibakken was named as the showcase project for their efforts. We couldn't be more proud that our hard work implementing energy efficiency measures has been recognized.
"All over the United States, cities and counties like Placer County are overcoming unique energy efficiency challenges by deploying comprehensive and flexible solutions," said Maria Vargas, director of the Better Buildings Challenge. "Placer County's Granlibakken Tahoe is a great example of energy efficiency at work in our nation's buildings: innovative financing, public-private partnerships and high-tech solutions."
Cool California Small Business Award Winner
Granlibakken Tahoe was one of 19 businesses selected for the Cool California Small Business Award. We were recognized for our efforts in environmental sustainability, specifically, partnership with mPower and Placer County to make efficiency upgrades to kitchen appliances and the heating system in the conference center.
Placer County's Best in the Basin
Granlibakken Tahoe was awarded for becoming a greener hotel in conjunction with the Sierra Business Council, Placer County, and the Department of Energy's mPOWER project to upgrade outdated appliances and systems with new, energy-efficient equipment.
Tahoe-Truckee Sierra Disposal's Composting Program
Granlibakken committed to composting all organic food waste from the kitchen and conference center through the Tahoe-Truckee Sierra Disposal's yellow-bag composting pilot program, a test for effectiveness in the region to reduce the amount of biodegradable waste that ends up in landfills.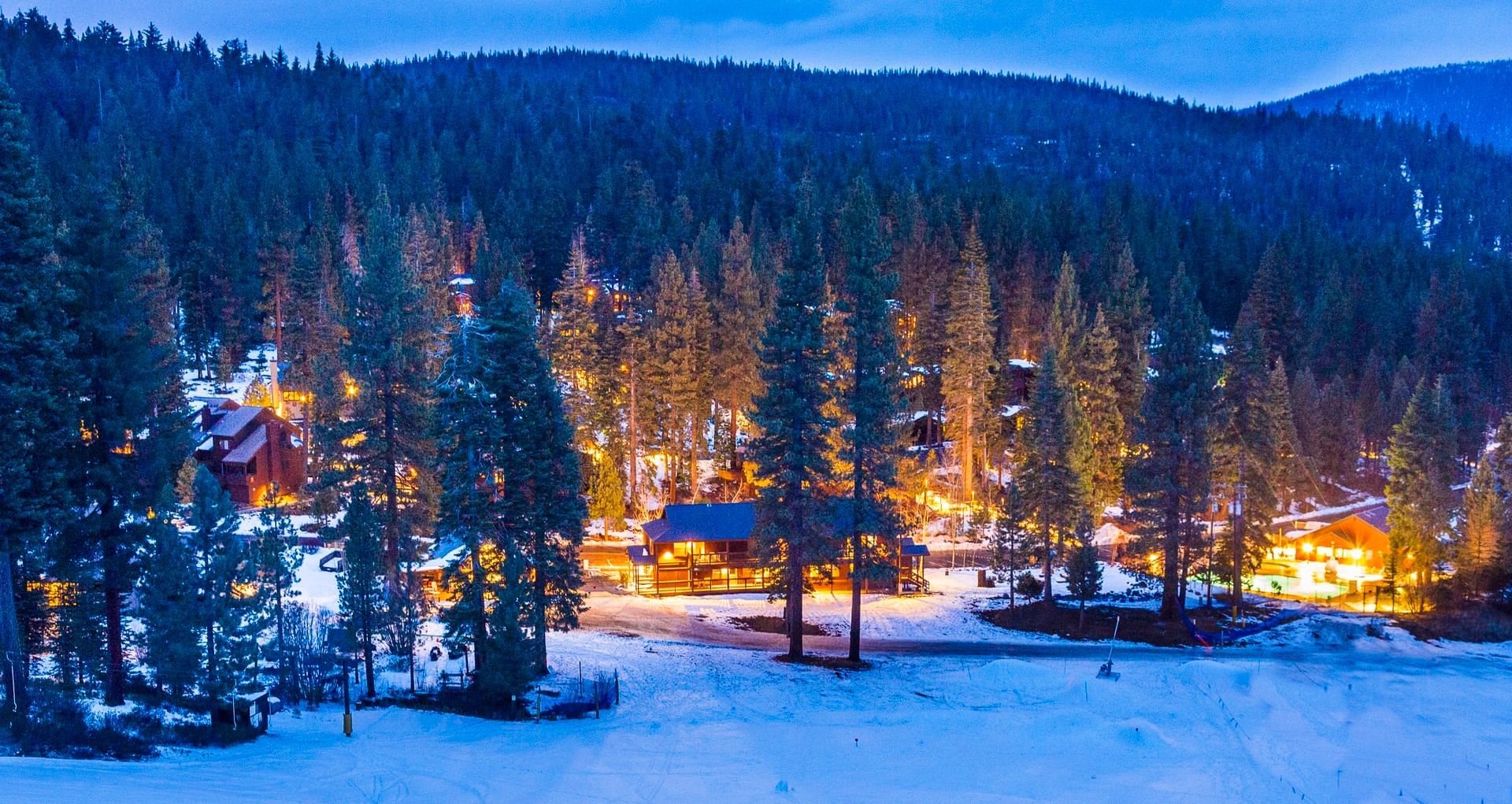 Listings and links
Granlibakken is uniquely located, surrounded by the Tahoe National Forest. Local, state and federal agencies work with us to restore the natural balance, improve the habitat for forest wildlife and promote fire safety with defensible space.