Cross-Country Skiing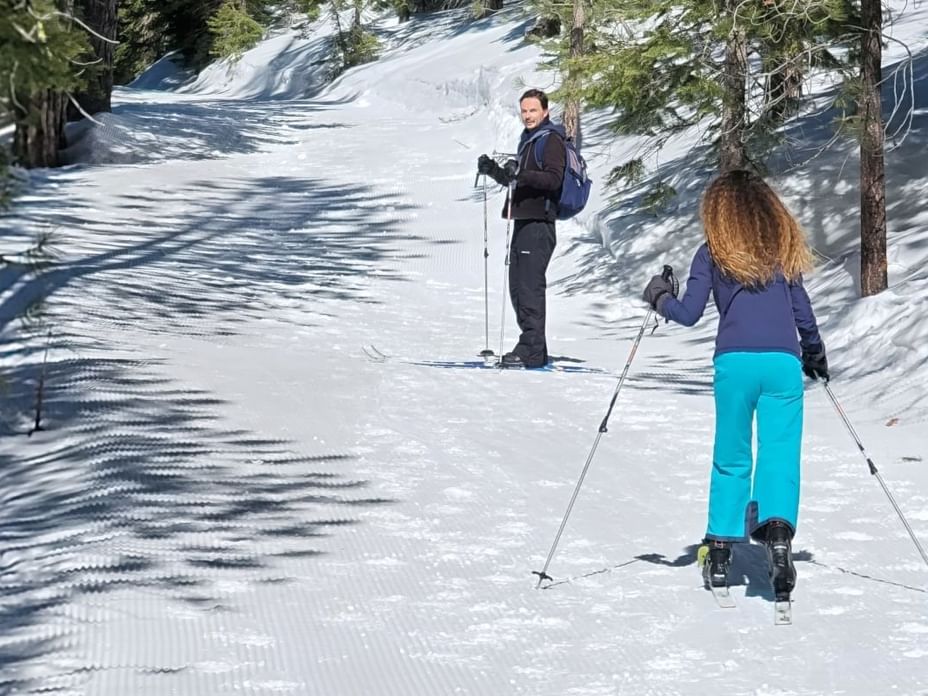 Granlibakken's 74-acre alpine property offers plenty of scenic Sierra terrain year-round. In the winter, cross-country skiers can explore trails surrounded by a stunning, snow-covered backdrop.
Guests have direct access to a 1.5-mile trail around the property, and a groomed access trail (flat-groomed, without stride-skiing tracks) to Paige Meadows loop when the weather and snow conditions permit. These popular trailheads lead to miles of ungroomed skiing and snowshoeing terrain to experience Tahoe's backcountry.
Since the region's day-time winter weather is typically sunny and dry, dressing in layers is advised as you may start out chilly but warm up quickly. Be sure to bring water too to stay hydrated in the arid climate.
Cross-country ski rentals are available at our rental shop in the ski hut.
For more extensive groomed cross-country trail systems in the area, check out:
Tahoe XC, right here in Tahoe City
Royal Gorge, the largest XC ski area in the Americas, located at nearby Donner Summit
Safety is a priority to us and whether you are a first time mountain user or you have been skiing or snowboarding for years take a few minutes to work through Ski California's Mountain Safety Guide and if you are introducing children to these sports then complete the guide with them before any lesson or taking any runs. Click here to read the Mountain Safety Guide.
725 Granlibakken Road 96145 Tahoe City United States